Capital.
Mentorship.
Hands-on help.
Sidespin Ventures is a pre-seed and seed stage firm providing capital, mentorship, and hands-on assistance to entrepreneurs building transformative technology companies.

What we look for
The ideal time for us to get involved is up to and including the Seed round. We look for fundamental technical innovation in a frontier technology like machine learning (aka, 'deep tech'), new market creation, and a uniquely qualified team. We are sector agnostic, but exclude certain verticals, such as media, content, advertising, marketplaces, information arbitrage, and a few others.

Advice & Assistance
We do not require advisory shares to offer hands-on help. Call when you need us. We actively help our CEOs with strategy, messaging, recruiting, introductions, and whatever else is needed. Occasionally we offer to get involved as an advisor even if we do not invest, primarily to build a relationship towards a potential financial relationship.

Style
We are highly selective, and only get involved with a handful of new companies each year. This also ensures that we can support our portfolio appropriately. Our investment size varies based on the opportunity. We typically do not lead rounds, and at the stages where we get involved, there may not even be a lead investor. We expect to support our companies via follow-on rounds through their Series A.



Dr. Jonyer is an investor, scientist, engineer, and serial entrepreneur, with extensive research, software development, and management experience at leading technology companies. He has been a venture capitalist with four different funds covering machine learning, artificial intelligence, autonomous vehicles, telecommunications, and streaming media, among others.
At Google, he was responsible for launching Google TV devices with device OEMs and SoC vendors such as Sony, Samsung, LG, Sharp, Vizio, Logitech, Intel, Marvell, and MediaTek. He designed mobile communication systems for Nortel Networks, including 3G mobile internet media streaming. Dr. Jonyer is a serial entrepreneur with two startups under his belt.
Dr. Jonyer holds a Ph.D. in machine learning from the University of Texas at Arlington, and an MBA from Carnegie Mellon University with a focus on entrepreneurship and venture capital.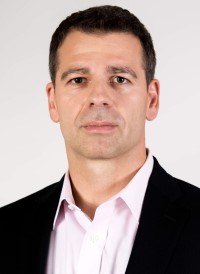 In table tennis, the sidespin loop is a shot that has the ball spinning around its vertical axis, causing the ball to curve as it flies over to the opponent's side. Istvan Jonyer, Sr., the four-time world champion table tennis player, is credited with inventing this shot and using it so effectively that the rules of the game were changed because of him. He was often able to curve the ball around the net, from extreme forehand positions, causing the ball to roll onto the table, making the shot unreturnable. We adopted the name Sidespin Ventures to honor his legacy and to remind us to be game-changing at whatever we do. Our logo is reminiscent of a paddle moving to hit the ping pong ball.
Contact
For startups the best way to get in touch is via warm introductions. Due to our need to be selective, a cold outreach may not get the attention it truly deserves. Having said that, a specific single letter before the at sign will work.
 Potential co-investors can get in touch here.